Day 1: Appenzell to Romanshorn
We are observing thunder, lightning, dark sea green sky, and heavy rain at 6:40PM. We are on our covered hotel room porch, watching the fabulous storm as it appears to get slowly closer.
Today's ride was overall quite pleasant. There were two heavy rain squalls, soaking our clothes but not spirit. Patrick, our German speaking Swiss guide, took us on some hilly routes. Mostly, the roads meandered through extremely green farmland.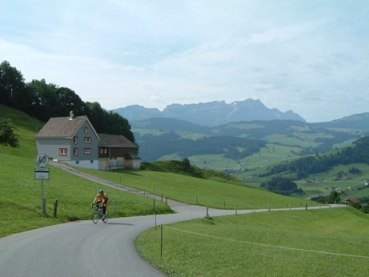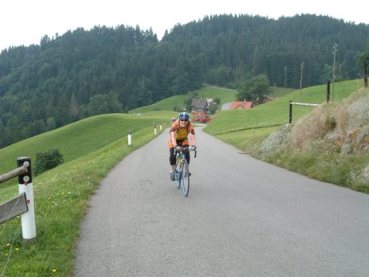 Traffic was more than reasonable, as good as the best of days in Italy. The local residents are friendly and respond to Gruetzi. I'm still fighting jet lag, but it's getting better. Never does sleep feel as good as when you are jet lagged. Early this morning, we had another fierce thunderstorm.
Nothing extraordinary comes to mind, except for the cows. There are lazy looking, gray cows everywhere. Most of them wear the famous cow bell. It tinkles as they eat grass, or wave their ears at annoying bugs. The goats sometimes have bells also.
This was a challenging ride to navigate.
Distance: 50.4
Ascent: 3600
Day 2: Romanshorn to Stein
Today's ride was rainy for the first half. There was lots of unpleasant riding on trails. Riding through Konstanz was interesting. It is a medium sized city. There is a thorough system of marked bike lanes. They are marked by colored dots to indicate their ultimate destination. For example, the blue dot indicates a path leading to Mainau.
From Konstanz to just before Stein, we were in Germany. It was hard to tell the difference from Switzerland.
Today's destination town, Stein am Rhein, has an interesting town Zentrung. The buildings are ornately painted.

This was an extremely challenging ride to navigate.
Distance: 37.2
Ascent: 1720
Day 3: Stein to Zurzach
This was a very pleasant ride. The final 15 miles were not so much fun because of the heat (87F). The route was mostly flat, except for one really fun climb. Mostly the terrain was farmland or light forest. The more heavily populated towns were fun also.
After Flaach, the heat became pretty uncomfortable. We stopped a handful of times at town fountains. We dunked our heads and soaked our legs. This helped quite a bit. We stopped at Rheinefall, or Rheine Falls.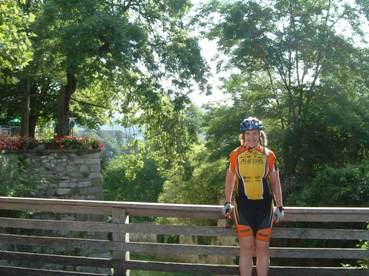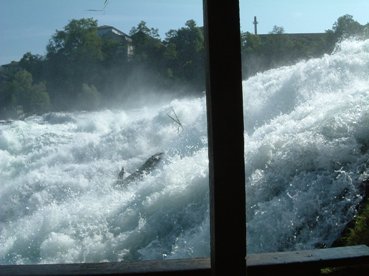 This was an easy ride to navigate, except for finding the final bridge to Zurzach.
Distance: 48.1
Ascent: 1120
Day 4: Zurzach to Zofingen
Today's ride had a rather cruel beginning. Around 4:00 AM, a fierce thunderstorm rolled through, followed by intense rain. By morning, the skies had cleared up completely. Hot weather was predicted, and by our departure time (7:50 AM) it was already 70F. The humidity was tremendous because of the rain. Finally, the ride began with a 1.2 mile hill of 6.8% grade.
The first 20 miles were mostly unimpressive; fairly busy roads and ordinary villages (dorf). Baden was the exception; a really neat city.
The rest of the ride was a lot of fun, except for the last few miles, which were exceptional. We were off the main roads and in farm country, rolling through village after village. The heat became really bothersome. Imagine climbing an exposed hill, feeling the blistering and prickly heat. The humidity is so bad that it does no good to sweat. At that point there are two things that can happen that are each a supremely divine experience. One, the climb moves into a deep forest, and the temperature drops 5F. Or two, a hillside village appears. These villages contain public fountains where the water is frigid. At that point, the best thing to do is dunk your head, refill bottles and dump water over scorched legs.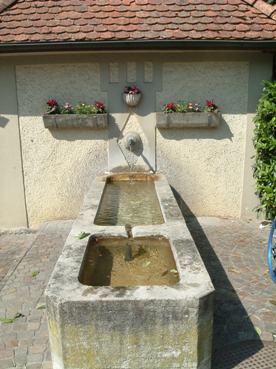 The last few miles into Zofingen went through two villages, and over 3 double chevron climbs. At each village, we partook of the public fountains in preparation for each climb. The hills were quite steep, but not really very long. After the final ascent, there was a long descent into town, practically ending at a pretty good pizzeria. We were just in time for lunch.
Thankfully, this was an easy ride to navigate. Although we probably got through Baden with luck instead of skill.
Distance: 55.1
Ascent: 4140
Day 5: Zofingen to Kemmeriboden
This was a long ride with lots of climbing. The Swiss natural grandeur has really begun, as we make our way into the mountains.
Soon into the ride, we detoured away from the "red" (busy) road, onto an unmarked "white" (one lane country) road. The countryside became very quiet, except for the cow bells and goats.
Towards the end of the ride was a rather long climb over a mountainous pass. Ahead of us, near our destination, we were eyeing clouds of an increasingly suspicious nature. Our fears of a lightening storm were unfounded, but only by three hours. After settling in at the hotel, a huge, thunder and wind storm struck the area.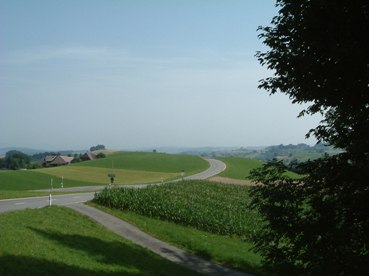 Distance: 61.1
Ascent: 5180
Day 6: Kemmeriboden to Grindelwald
Today's ride began with weather reminiscent of late October: cooler and drizzly. Soon into the ride was a fabulous climb followed by a long descent into Thun ("toon"). Traffic became quite thick as we approached Thun and its satellite metropolises. However, riding through Thun (and Interlaken later on) was a real blast. The traffic circles handle an amazing amount of vehicles, keeping them moving.
After Thun we took the alternate, high route. This climbs over 2500 feet above the milky blue Thuner See (lake). Most of the view was obstructed today by overcast. In fact, part of the climb meandered through dense forest coated in thick fog. At one point we rode through a pitch black tunnel buried in these remote Swiss hills. Mini stalactites added a spooky touch.
The ride actually ended at Stechelberg; we eventually took a cog rail train to Grindelwald. Stechelberg is at the end of a long, deep valley. On either side are sheer rocky cliffs and long, skinny waterfalls. The titanic scenery was unmatched, but we had "going to the barn" syndrome after the challenging day.
The train trip was ok, but overcast blocked much of the views.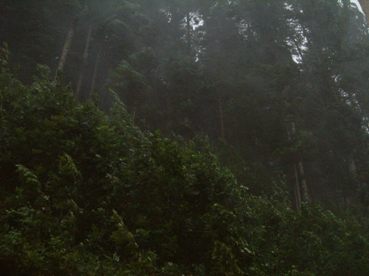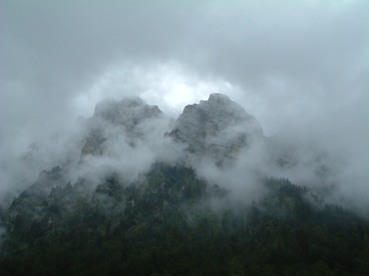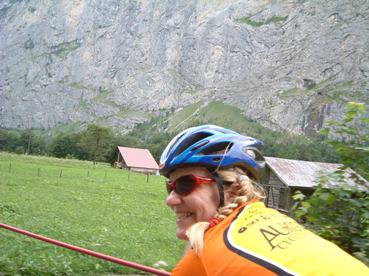 Distance: 60.3
Ascent: 5500
Day 7: Grindelwald to Flueli-Ranft
As we exited the Bernese Oberland today there was more titanic scenery. We began with a difficult climb to the Grosse Scheidegg (8.4% for 6.8 miles). The vistas were incredible; cliffs, glaciers, and deep, green valleys. The corresponding descent was long, narrow, and twisty. We frequently crossed icy blue streams.
After lunch, we continued to Flueli-Ranft. A lot of the route was on gravel roads. We rode along a handful of large lakes, colored an incredibly glacial blue.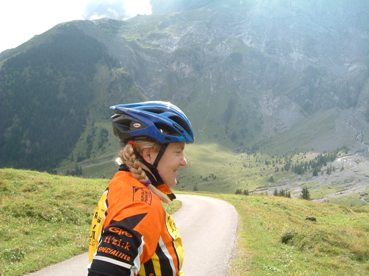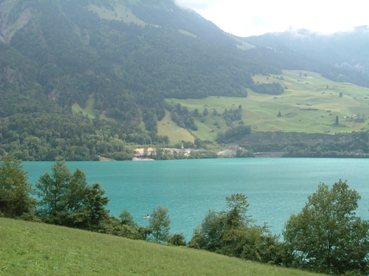 Distance: 42.0
Ascent: 5680
Day 8: Flueli-Ranft to Vitznau
Today's ride was generally pleasant, flat and easy. We stopped in bakeries in two different villages for tasty treats. To get to Vitznau, we took a small ferry: capacity 6 cars.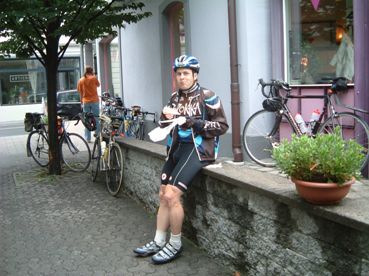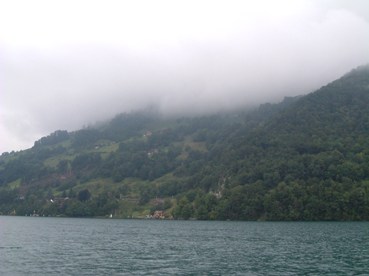 Distance: 23.5
Ascent: 760
Day 9: Vitznau
It rained very hard for today's short ride. We simply did an out-and-back from Vitznau. Nothing much to see; everything is covered in fog and clouds.
Distance: 17.4
Ascent: 480
Day 10: Vitznau to Weesem
Fortunately the weather was favorable for today's ride: dry and overcast, mostly. We had a nice start along a large lake before the big climb. The climb (7.7 miles at 7.3%) went through a cheerful forest. There were some good views of the valley and lakes below. After the corresponding descent, we took an unscheduled turn to explore an isolated lake. This was a very scenic diversion.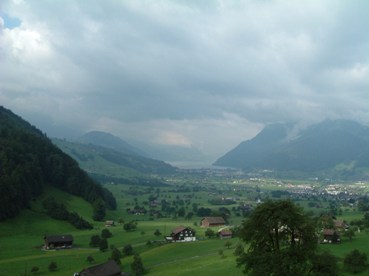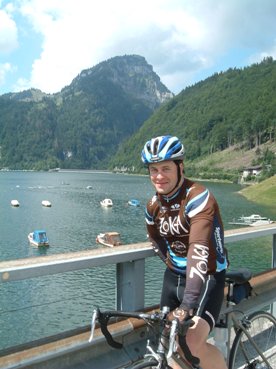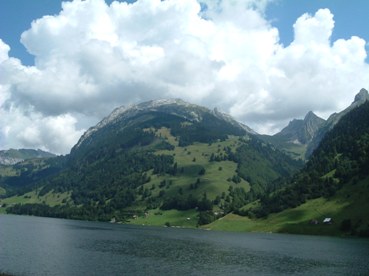 The final part of the ride was extremely challenging to navigate.
Distance: 72.2
Ascent: 5400
Day 11: Weesem to Wildhaus
Today's ride contained a lot of bike trail routes. The most striking feature was a kilometer long tunnel, built specifically for bicycles. It felt like "Journey to the Center of the Earth."
All the climbing was right at the end, over single lane roads.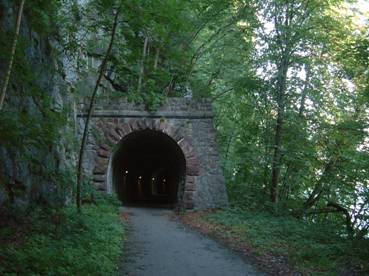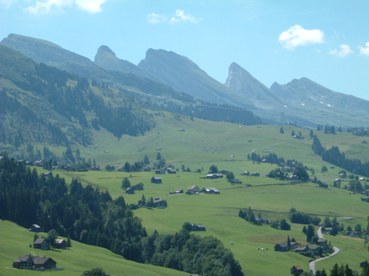 Distance: 43.9
Ascent: 3090
Day 12: Wildhaus to Appenzell
Today we returned to our original town. This was a short ride. It was mostly downhill, but with one long mountain pass.
The weather was cold and low overcast. We wanted to ride a cable car to the top of Santis, but the visibility was zero at the top.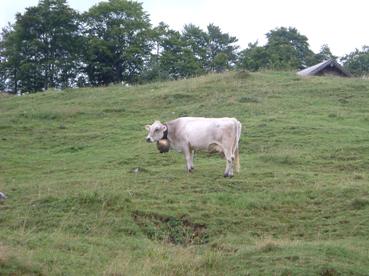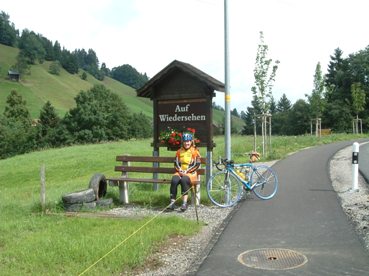 And that's all!
Distance: 31.0
Ascent: 2360
---
Trip totals
Distance: 542.2 (45.2 average)
Ascent: 39030 (3250 average)
---
Movies!!!
Storm in Kemmeriboden
Cowbells outside of Kemmeriboden
Valley leading to Stechelberg (1)
Valley leading to Stechelberg (2)